Category:Small Plecos
From The Aquarium Wiki

Please copy and paste ' [[Category:Small Plecos]] ' into the end of your article to include it in this category.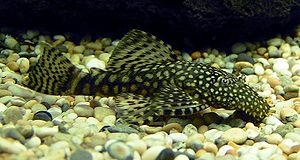 The following Plecos will not grow more than 20.3cm (8") in length. This list has been compiled to hopefully help people avoid buying baby monster Plecos by accident. These Plecos will be suitable, if kept singly, for:
76 Litres (20 US G.) plus - for fish 12.7cm (5") and under
114 Litres (30 US G.) plus - for fish up to 15.2-20.3cm (6-8")
These tanks must be well filtered as all Plecos are very messy fish!
Subcategories
This category has only the following subcategory.
Pages in category "Small Plecos"
The following 88 pages are in this category, out of 88 total.