Butterfly Goby (Amblygobius albimaculatus)
From The Aquarium Wiki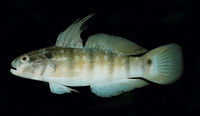 Amblygobius albimaculatus
Additional names
Butterfly Goby, Tailspot Goby, Tailspot Reef Goby
Additional scientific names
Gobius albimaculatus, Gobius papilio, Gobius quinqueocellatus
Males with 3 black spots near base of 2nd dorsal fin and round spots on cheek; females with brown-edged band from upper lip to upper operculum.
This fish can easily starve in captivity, they can be fussy eaters. They prefer to eat continuously, rooting around in the substrate for algae, crustaceans and worms.
Behaviour
[
edit
]
A bottom dwelling sand-sifting goby. Will dig in the substrate and hover slightly above it.
Pictures
[
edit
]
External links
[
edit
]