TetraTabimin
From The Aquarium Wiki
About TetraTabimin
[
edit
]
Tetra GmbH, a company based in Germany, makes a range of excellent tablet food called TetraTabimin.
This fast sinking tablet food comes in various sizes of tubs with a twist off lid and is sealed with a silver label.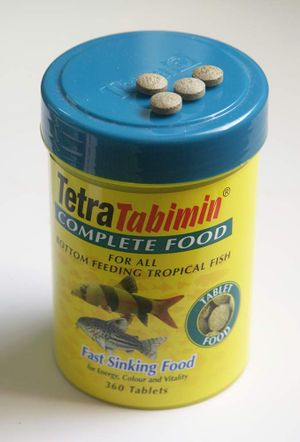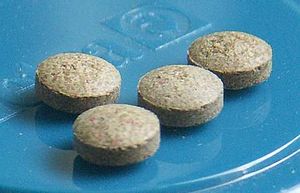 36g tub with 120 tablets
106g tub with 360 tablets
Usage notes
[
edit
]
You'll find that each tablet may be too big for one fish, so break it into half or even quarter. It is advisable if feeding to category:Corydoras.
This tablet quickly breaks up in a heap within 5 mins.
Dwarf African Frogs will eat this.
Availability
[
edit
]
Available throughout the EU.
Ingredients claimed
[
edit
]
Milk and milk derivatives, fish and fish derivatives, vegetable protein extracts, cereals, yeasts, algae, derivatives of vegetable origin, molluscs and crustaceans, oil and fats, various sugars, lecithin, colorants and preservative.
(Largest ingredient order)
Typical Analysis claimed
[
edit
]
Protein 43.0% Oil 5.0% Fibre 1.5% Ash 9.5% Moisture 8.0% Added vitamins per kg: Vitamin A 18 560 IU Vitamin D3 1 160 IU Vitamin E 62 mg L-ascorbyl-2-poly-phosphate 216 mg