Talk:Beaufortia kweichowensis
From The Aquarium Wiki
can we get a better picture? we appreciate sending a pic, but doesnt it look a bit like mold growing on something?--Hc8719 22:20, 7 September 2006 (CDT)
---
Sadly, usable pictures are very hard to come by. If you look at the picture in more detail (click on it) you can see the quality is actually good. --PsiPro 23:18, 7 September 2006 (CDT)
I added a PD picture from Wikipedia.
I also took a good look at 'hillstreamloach.jpg' and it's far too dark.
So I put it through Photoshop and it looks a lot clearer now.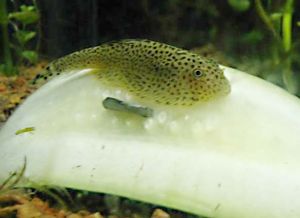 Shall I overwrite the original or just mod the image code on the page to point to this image? It's not my image. Seems to belong to 'User Cz'.
--Quatermass 04:22, 11 October 2006 (CDT)
---
Dead link
[
edit
]
During several automated bot runs the following external link was found to be unavailable. Please check if the link is in fact down and fix or remove it in that case!
--PsiPro bot 00:15, 2 May 2011 (CDT)