Screwcumber
From The Aquarium Wiki
Product Review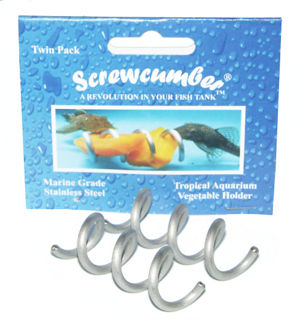 The Screwcumber is a commercial product by Opti-Fish (Gary Evans and Robert Shepherd) based in Redditch in the United Kingdom.
When I received an example of the product to review I had to smile as it does look exceptionally smart and modern. Opti-Fish sells this product in pairs and they come in a plastic bag with a cardboard header for display in a shop rack.
Description
Each object is 6cm (2.4") in length and 2cm (0.8") in diameter and weights in at a hefty 12 grams. Looking at it for the first time you may ask yourself what does it do. It is of course designed to hold down pieces of vegetables so that they sink to the bottom of the aquarium for your fish to eat and that it stays put.
But I hear you saying that you can use a piece of lead to perform the same role and you'd be right. But the Screwcumber does its job with a certain elegance and style. There is no denying it does look good to the eye. With its rigid coil of steel and safe rounded ends, it is far nicer (and safer) than that piece of ageing strip of lead you probably have lying about!
I also like how it is virtually impossible for a slice of cucumber to come off if you leave it in too long and if you attach a thread of cotton to the centre as I did then it's a 100% dry extraction process with no mess.
I would recommend the use of a length of cotton as it hits the floor of your aquarium with quite a thud if you simply drop it in and a thread allows you to drop it in slowly and extract it without alarming your aquatic animals.
Material
The Screwcumber is made of stainless steel, marine type 316 quality steel actually (I looked this up on Wikipedia). It's made of a mixture of iron, carbon and chromium which means it is very resistant to rusting. This high grade of stainless steel is even used by surgeons so this means that it safe even if left in a salt water tank for long periods of time. So we can be assured that it will not leach unwanted metals in the water. Always a worry with anything we put in our tanks.
Using
In use I've tried courgettes and cucumber with their skins left on for my Dwarf otos, Bristlenose plec and other fish to munch on. This way if your pets eat the flesh then the rind will still be wrapped around the screwcumber and so tidily lifted out.
I've also experimented on taking a large 7.6cm (3") slice of carrot and twisting the screwcumber into the carrot. This works well too and my fish certainly were not shy in getting stuck into the new food.
You can use the thick centre stalk of lettuce leaves to screw the screwcumber into. I've even tried large grapes cut in half and twisted on.
Notes
Obviously you don't want to leave any food like this in the aquarium for longer than 12 hours as it rapidly decays and whilst it may look intact, when you try to remove it then the vegetable breaks apart in a million parts and you've got a pollution problem on your hands and a possible ammonia spike.
Where to get it
I've not seen this in the aquarium shops in Scotland. But it is available on-line from their web site and they ship all across the world and there appears to be regular auctions on eBay by Opti-Fish. It's not expensive at £2.99 + P+P considering you get two.
Improvements
Not a lot you can do to the screwcumber to improve it, as it serves its purpose beautifully. But if I was pushed I would have wished Opti-Fish had supplied a length of waxed cotton thread as I had to raid my wife's sewing basket!
Reviewed by --Quatermass 16:31, 13 July 2007 (CDT)
Links