Red Empress (Protomelas taeniolatus)
From The Aquarium Wiki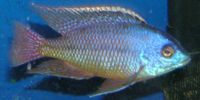 Additional names
Spindle Hap, Haplochromis Red Empress
Endemic to Lake Malawi.
The male has a red body with blue head, the female is grey.
Breeding
[
edit
]
This fish is a Mouth Brooder. Males can be aggressive during breeding to the point of killing a disinterested female. Males will claim and defend a large territory during this time.
Tank compatibility
[
edit
]
Fairly peaceful for an African Cichlid, should be kept with similar Malawi Cichlids, peaceful Mbuna and Synodontis catfish.
Feed quality flakes and pellets, spirulina and supplement the diet with blanched vegetables.
Feeding regime
[
edit
]
Feed once or twice a day.
Environment specifics
[
edit
]
Provide with hiding places/caves. Prefers a tank with a lot of rockwork.
Behaviour
[
edit
]
Typical African Cichlid when breeding. Enjoys digging in gravel or sand.
Identification
[
edit
]
An attractive elongate oval fish that is vivid blue around the head with hints of red and green through the body. The dorsal fin is edged in white.
Pictures
[
edit
]
External links
[
edit
]