Blue Gold-Tip Cichlid (Ophthalmotilapia ventralis)
From The Aquarium Wiki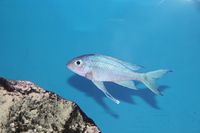 Ophthalmotilapia ventralis
Additional names
Blue Gold-Tip Cichlid
Additional scientific names
Paratilapia ventralis, Ophthalmochromis ventralis, Ophthalmochromis ventralis ventralis
Mature males are slightly larger than the females and display a brighter colouration.
Tank compatibility
[
edit
]
A relatively peaceful African Cichlid, although males may be territorial towards one another or similar looking-fish. Keep in groups of 3 or so females per male.
Can be a fussy eater, feed with high quality Cichlid pellets or flake. Live/frozen foods like brine shrimp or daphnia are also appreciated.
Pictures
[
edit
]
External links
[
edit
]