Boulenger's Cichlid (Neolamprologus boulengeri)
From The Aquarium Wiki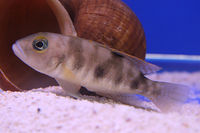 Neolamprologus boulengeri
Endemic to Lake Tanganyika.
General care
[
edit
]
Setup the aquarium with plenty of rocks, and visual barriers to help mitigate territorial disputes. Keep in groups of 4+ . A large aquarium (15 gallons<) is usually required for a group of 4-5. If a group is well aquatinted, and have been kept in smaller aquariums (i.e a shop tank) without any trouble, one could keep a quartet in an aquarium of around 10 gallons (with some clever aqua scaling and aquarium design. However, this is an exception rather than a rule, so ideally shoot for 20 gallons.
Feeding
[
edit
]
Tank bred specimens readily accept frozen, live or pellet foods. Life foods are ideal, however not entirely necessary. Good live foods include bloodworms, tubifex and artemia (brine shrimp).
Females are smaller than the males.
Pictures
[
edit
]
External links
[
edit
]