Rostratus (Fossorochromis rostratus)
From The Aquarium Wiki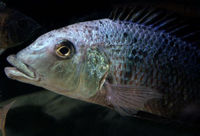 Additional names
Rostratus
Additional scientific names
Tilapia rostrata, Cyrtocara rostrata, Haplochromis rostratus, Haplochromis macrorhynchus
Endemic to Lake Malawi.
Males and females have entirely different colouration, the male is larger with iridescent silver-blue colouration, whereas the female is pale cream-yellow with black markings in a checkerboard pattern down the flanks.
Tank compatibility
[
edit
]
A relatively peaceful African Cichlid, but can get feisty during spawning. Keep with other similar-sized semi-aggressive African Cichlids. Appreciates company of its own kind and several males can be kept together if the tank is large enough.
Will accept most foods including pellets and flake as well as live/frozen food such as shrimp, bloodworms, artemia and blanched vegetables.
Feeding regime
[
edit
]
Feed once or twice a day.
Environment specifics
[
edit
]
Needs a soft sandy substrate and no sharp objects. Appreciate good filtration and a large amount of open swimming space with large hiding places.
Behaviour
[
edit
]
This is quiet a shy Cichlid and can be easily startled, will dive into the substrate if spooked.
Identification
[
edit
]
Both males and females are elongate with large mouths. The males are iridescent blue with black and green markings. The females are smaller and pale yellow-brown with checkerboard black markings down the lateral line.
Pictures
[
edit
]
External links
[
edit
]