Canara Pearlspot Cichlid (Etroplus canarensis)
From The Aquarium Wiki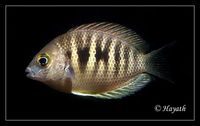 This animal is available captive bred
Additional names
Canara Pearlspot Cichlid, Banded Chromide
Asia: South Karnataka, India.
Males are larger and more heavily built than females.
Generally peaceful except if a pair decides to spawn. Best kept in a group of at least 7-8 in a large tank. Can be kept with shoaling fish too large to eat such as Devario malabaricus.
Feed once or twice a day.
This Chromide is happiest in a freshwater set up than brackish. They prefer a set up to resemble a flowing stream with a variably sized rocky substrate. They are sensitive to water quality so should only be introduced to mature set ups.
Generally peaceful except if spawning.
An oval shaped fish. The body is cream-yellow in colour with several vertical dark bands running down the flanks but not around the belly.