Malawi Eye-Biter (Dimidiochromis compressiceps)
From The Aquarium Wiki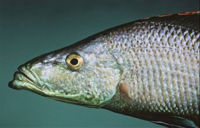 Dimidiochromis compressiceps
This animal is available captive bred
Additional names
Malawi Eye-Biter, Malawi Eyebiter
Additional scientific names
Haplochromis compressiceps
Endemic to Lake Malawi.
Mature males will be a vibrant blue colour, occasionally showing red on the edges of their fins. Females are pale-blue/silver with a dark stripes.
Tank compatibility
[
edit
]
Can be aggressive and territorial towards one another. Either best in large species tanks or with similar sized robust tank mates.
These fish love eating live food, also flake, brine shrimp and cichlid pellets can be thrown in.
Feeding regime
[
edit
]
Depending what you feed them, 1-2 times a day like most other fish, if live food then once a day usually.
Environment specifics
[
edit
]
Must have a large aquarium with excellent filtration. Some hiding places in rock work is appreciated and a soft substrate is recommended.
Behaviour
[
edit
]
Aggressive towards each other. Generally can mix with other semi-aggressive fish, they tend to keep to them self unless mating. Usually they feed top-mid since they like to hide in reeds or other tall plants to ambush their prey.
Identification
[
edit
]
Compressed body. Large protruding lower jaw and unique iridescent blue in colour. Females are normally silver with the typical black striped along their bodies.
Pictures
[
edit
]
External links
[
edit
]