Emerald Dwarf Rasbora (Danio erythromicron)
From The Aquarium Wiki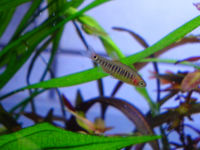 Additional names
Emerald Dwarf Rasbora
Additional scientific names
Microrasbora erythromicron
The male is more colourful than the female.
A sociable little fish appreciating company of it's own, keep in a group of at least 6. Due to it's small size, any tank mates would have to be carefully considered.
Will take most foods as long as they're small such as small pellets, crumbled flake, daphnia or brine shrimp.
Feed once or twice a day.
Needs soft water to thrive. Provide open swimming space as well as dense planting to hide in.
Loosely shoaling active fish.
This little fish has a blue-green base colour with light vertical bars down the flanks.