Frail Gourami (Ctenops nobilis)
From The Aquarium Wiki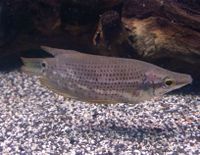 Additional names
Frail Gourami, Indian Paradisefish, Noble Gourami
Additional scientific names
Osphronemus nobilis
Prefers live or frozen food such as bloodworm and brine shrimp. May also take flake and pellet food.
Feed once or twice a day.
This fish is exceptionally sensitive to water quality. It requires a well matured tank with acidic water quality. It will not live long in tropical temperatures and so needs cool sub-tropical set ups with good current and oxygenation.