Azureus Cichlid (Copadichromis azureus)
From The Aquarium Wiki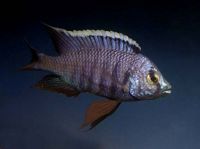 Additional names
Azureus Cichlid, Nkhomo Reef Cichlid
Additional scientific names
Haplochromis chrysonotus
Endemic to Lake Malawi.
Mature males are vivid blue, females are a more grey colour with 3 black spots. Mature males are larger than females. Juvenile fish are all coloured as the mature female and males will develop the blue colours as they grow from about 8 months old.
Tank compatibility
[
edit
]
A reasonably peaceful African Cichlid, can be kept with other Malawi Cichlids of similar size and temperament.
This fish eats plankton in the wild, and is not a fussy eater in captivity. Will take cichlid pellets, krill or brine shrimp.
Feeding regime
[
edit
]
Feed once or twice a day.
Environment specifics
[
edit
]
Prefers rock decor, no planting, a sandy substrate and a strong current.
Behaviour
[
edit
]
Not as aggressive as some African Cichlids, likes rock work to hide in and needs open space to swim in. A sandy substrate is required if these fish are to breed as they dig nests.
Identification
[
edit
]
The males are a bright blue when mature, they are at their most colourful aged 10-12 months. They are blue with visible vertical bands, when younger they have three spots on their flanks. When mature the dorsal fin is edged with white.
Pictures
[
edit
]
External links
[
edit
]