Trout Cichlid (Champsochromis caeruleus)
From The Aquarium Wiki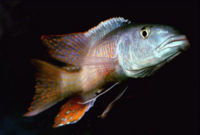 Additional names
Malawi Trout, Trout Cichlid, Malawi Lion
Additional scientific names
Paratilapia caerulea, Copadichromis caeruleus, Cyrtocara caerulea
Endemic to Lake Malawi.
Mature males are blue with some yellow/orange colored spots, long flowing anal and dorsal fins that may reach the tail. Females are generally silver with a black line that runs down the entire length of the body.
Tank compatibility
[
edit
]
Best kept with similar sized or larger Lake Malawi species.
Pellets seem to be accepted well by them. There nature diet is small fish or lake sardine.
Feeding regime
[
edit
]
Once a day feeding for adults will do and two to three small meals for young fish.
Identification
[
edit
]
A very large Lake Malawi Cichlid with an equally large mouth. See sexing for more details.
Pictures
[
edit
]
External links
[
edit
]