Giant Tanganyika Cichlid (Boulengerochromis microlepis)
From The Aquarium Wiki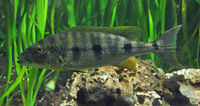 Boulengerochromis microlepis
Additional names
Giant Tanganyika Cichlid, Giant Cichlid
Additional scientific names
Tilapia microlepis, Paratilapia microlepis
Endemic to Lake Tanganyika.
Mature females are significantly smaller than males.
Tank compatibility
[
edit
]
Due to this fish's size it's best either kept in pairs or singly in species tanks. It can occasionally be combined with other large-growing Tanganyikan Cichlids. Large peaceful yet robust bottom-dwellers may also work.
Should accept most meaty foods including high quality Cichlid pellets, as well as shrimp, earthworms and silversides.
Feeding regime
[
edit
]
Feed once or twice a day.
Environment specifics
[
edit
]
Requires hard alkaline with a pH 8.0 or above. Tank décor is not important as long as it's sturdy and a sand substrate is preferred. Needs a substantial amount of swimming space.
Behaviour
[
edit
]
A generally peaceful fish to those of similar size, but will eat smaller fish. They are increasingly territorial to their own species as they mature.
Identification
[
edit
]
Said to be one of the largest African Cichlids in existence. The body is long with a yellow-green base colour, with faint vertical dark green lines running down from the dorsal fin, these get darker as the fish ages. The head is speckled with blue spots.
Pictures
[
edit
]
External links
[
edit
]