Micro Rasbora (Boraras micros)
From The Aquarium Wiki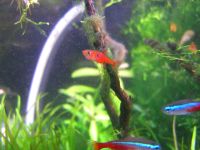 Males are bright orange, females are tan to light orange.
A peaceful shoaling fish that should be kept in groups of 6 or more. Due to their size should only be kept with equally small fish such as Pygmy Corydoras.
Should accept most small foods such as small pellets or flake as well as live/frozen foods like brine shrimp.
Feed once or twice a day.
Soft and acidic water are best for them. Keep ammonia and nitrite at 0, and nitrates less than 10.