Combtail (Belontia signata)
From The Aquarium Wiki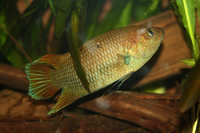 Additional names
Combtail, Ceylonese Combtail, Comb-Tailed Paradise Fish, Ceylon Combtail
Additional scientific names
Polyacanthus signatus
Asia: common in the south west quarter and mid-hill region of the Mahaweli basin, including the lower hills up to about 800 m. Found throughout Kelani and Kalu River basins, Sri Lanka.
Males are more vibrantly coloured with slightly longer finnage. Meanwhile, Females tend to be less vibrant in colour and has shorter finnage.
These fish are aggressive so are not suitable for a community tank. Should only be kept with robust similar sized fish or in a species tank.
Feed once or twice a day.
Prefers a large spacious tank with dense planting and hiding places in bogwood and rocks.
- An aggressive Or a Territorial predatory fish.
- An intellectual fish with it's own Personality.
Similar to the Paradise Gourami in shape, the body colour is pale yellow-brown with reddish hints and rounded caudal fin. The dorsal, caudal and anal fins are red in colour with blue iridescent banding.