Russian Bitterling (Acanthorhodeus asmussi)
From The Aquarium Wiki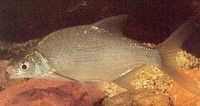 This animal is available captive bred
Additional names
Spiny Bitterling
Additional scientific names
Acanthorhodeus asmussii, Acanthorhodeus asmussii amurensis, Acanthorhodeus taenianalis, Acheilognathus asmussii, Acheilognathus assmussii, Devario asmussii
It is difficult to visually sex this fish. Mature females may appear more full in the belly than males.
A temperate fish that is not often found in the pet trade. Is best kept with similar-sized fish with similar temperaments, or in a species tank. Usually only found in public aquariums.
Should accept most foods including brine shrimp.
Feed once or twice a day.
This fish is best kept in large tanks which are well filtered and oxygenated. They will not do well in very warm temperatures.
Active mid-swimming fish.
A slender fish with a slightly humped spine. The fins are clear in colour with a sharply forked caudal fin, while the flanks are iridescent silver.