1A-Wirbellose
From The Aquarium Wiki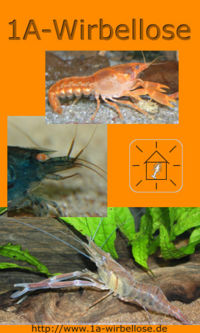 1A-Wirbellose
Roland Blankenhaus Website about invertebrates.
Shrimps and Cambarellus patzcuarensis sp. Orange (CPO)
Much information about Shrimps and how to keep and breed them.
Tips on how to use natural remedy - more useful things to come.
Tel: & Fax: +49 40 58 72 64
All people from outside Germany, Switzerland and Austria please
contact: info@1A-Wirbellose.de in English, French, Spanish, Polish - thank you.