Eight-Barb Loach (Lefua costata)
From The Aquarium Wiki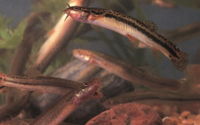 Additional names
Eight-Barb Loach, Eightbarbel Loach, Eight-Whiskered Stone Loach, Rice Loach
Additional scientific names
Diplophysa costata, Lefua costata costata
Asia: Lakes and rivers of Russian Far East, Korea, Northern Chian and Mongolia.
Difficult to sex visually.
Should not mind company of its own kind, and should only be kept with peaceful robust tankmates that appreciate similar water conditions.
Feed once or twice a day.
This fish prefers a shallow tank with dense planting. Substrate should allow for burrowing.
A peaceful burrowing fish.
A very elongated fish with a bold black lateral line from nose to caudal fin on a pale brown base colour. It has 4 sets of barbels on its nose giving it its common name.