Key West Aquarium
From The Aquarium Wiki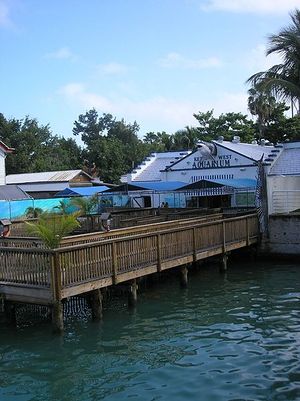 During the Great Depression, Key West had turned over its charter to the federal government due to the economic disaster that had hit the island. The federal government believed Key West, with its great weather and location, would make a wonderful tourist destination. The Works Project Administration (WPA) was sent in and built the Key West Aquarium between 1932-1934. The Aquarium was originally an open air aquarium, one of the first and largest at the time. Today, it is nearly twice the size of the original with the addition of the Atlantic Shores exhibit and the large outdoor holding pens.
The Key West Aquarium exclusively stocks native fish, all saltwater, which include a large pond of Nurse Sharks, as well as Rays, Groupers, Barracuda, Tarpon, Snappers, Sea Turtles and large outdoor holding pens with large Sharks. There are regular tours, talks and feeding, as well as a close up encounter of baby Nurse Sharks.
1 Whitehead St.
Key West, Florida 33040
USA

There are discounts for children and OAPs, and a discount if tickets are bought online. It's also possible to save by buying a Key West Passport which allows you to visit more than one attraction on the island.