Slender Hemiodus (Hemiodus gracilis)
From The Aquarium Wiki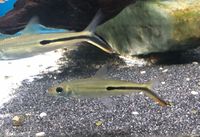 Additional names
Slender Hemiodus, Red Hemiodus
Additional scientific names
Hemiodopsis semitaeniata
In the wild, this fish occurs in large shoals in rivers in the Amazon Basin, South America.
Difficult, males tend to slimmer. No recorded instances of this fish being bred in captivity.
Middle swimming shoaling fish, can be kept in large aquariums with larger peaceful community fish.
Twice a day.
Prefers large laterally-spacious tanks with open swimming space and some dense planting.
Shoaling fish, keep in groups of 10 or more.
Long slender iridescent silver body with a strong black line beginning ¾ of the way down the body and continuing down to the tip of the bottom half of the tail fin.