Red Headed Cichlid (Vieja synspila)
From The Aquarium Wiki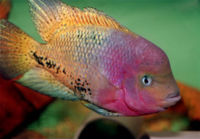 This animal is available captive bred
Additional names
Red Headed Cichlid, Quetzal Cichlid
Additional scientific names
Paraneetroplus synspilus
Origin
Widespread throughout the Indo-Pacific region.
Sexing
Not easy to visually sex.
Tank compatibility
Moderately aggressive, not for community tanks. Keep with similar sized aggressive fish only providing plenty of space for territories.
Diet
Carnivorous; standard cichlid diet of pellets, bloodworms, and such will suffice
Feeding regime
Daily.
Environment Specifics
Large freshwater tanks should suffice, as these fish can grow a size
Behaviour
Moderately aggressive, as per medium-large cichlids
Identification
A fairly medium cichlid that is red towards its front, and yellow towards its rear, with black spots towards the caudal peduncle.
Pictures
[
edit
]
Paraneetroplus synspilus 2015 G1.jpg
External links
[
edit
]