Bartlett's Anthias (Pseudanthias bartlettorum)
From The Aquarium Wiki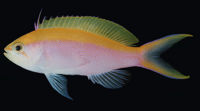 Pseudanthias bartlettorum
Additional names
Bartlett's Anthias, Bartlett's Fairy Bass
Anthias species all share the trait of being hermaphroditic. If a dominant male perishes, the largest female of the group will often morph to take its place. Males colouration tends to be more vivid than females.
Tank compatibility
[
edit
]
Prefers to be in large groups of it's own species. Generally peaceful towards other tank mates and is reef-safe.
This Anthia should be fed foods such as mysis shrimp, vitamin-enriched brine shrimp, frozen foods and other meaty items for zooplankton feeders.
Feeding regime
[
edit
]
Feed these fish small quantities several times a day.
Environment specifics
[
edit
]
Keep in a rocky environment with overhangs and hiding places.
Behaviour
[
edit
]
A generally peaceful fish that appreciates company of its own kind and will spend some time hiding under overhangs and other hiding places.
Identification
[
edit
]
An attractive fish with a forked caudal tail. Males have a more intense colouration with a violet body and yellow running along the back through the upper caudal lobe. The females tend to be lavender in colour with a yellow back and caudal fin.
Pictures
[
edit
]
External links
[
edit
]