Nemo
From The Aquarium Wiki
I want a Nemo![edit]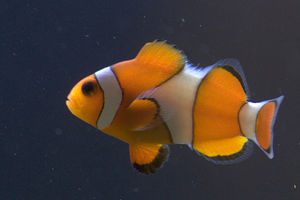 Thanks to the film "Finding Nemo", the popularity of Clownfish has rocketed. Nemo is actually an Amphiprion ocellaris. There are several other Clownfish species that can look similar to the A. ocellaris. All need specialist care and a proper marine set up. The fish tank shown in the film would in fact be impossible to keep alive for any period of time.
Good Freshwater Nemo Alternatives[edit]
If you find yourself with little ones nagging and begging for a pet Nemo of their own and you don't have deep enough pockets to shell out around £1000 (or equivalent) for a saltwater set up, maybe consider these fish as striped freshwater Nemo cousin alternatives.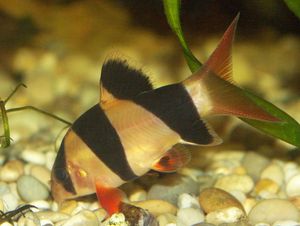 A Finding Nemo Marine Tank?[edit]
A stocking with all the characters from the film WILL NOT WORK. There are dozens of compatibility issues and fish such as Gill, a Moorish Idol, can be exceptionally tricky to keep in captivity. If you've had this idea, or being pressurised into it by children, avoid this as it won't work and will end in, expensive, tears!