Spike Tail Trumpet Snail (Melanoides granifera)
From The Aquarium Wiki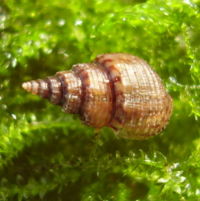 This animal is available captive bred
Alternative names
Spike Tail Trumpet Snail
Sexing
All individuals are hermaphroditic and livebearers, a single snail can turn into many.
Tank compatibility
A peaceful snail, will not bother tank inhabitants. However, should not be kept with aggressive fish that may attack it such as Loaches or Pufferfish.
Diet
A scavenging snail, will constantly hunt for food and can be supplemented with blanched vegetables and algae wafers.
Feeding regime
Most active at dusk, or just after lights out.
Environment Specifics
Likes to burrow so a sand substrate is preferred. Generally doesn't eat aquarium plants.
Behaviour
Unknown
Identification
Different from the more common Melanoides tuberculata in that it's shell is shorter and stockier, usually coloured a rich red-brown.
Pictures
External links