Frogspawn (Euphyllia divisa)
From The Aquarium Wiki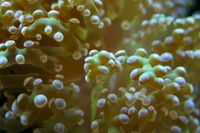 Alternative names
Frogspawn, Honey Coral Wall, Frogspawn Coral, Grape Coral, Octopus Coral
Tank compatibility
An aggressive coral, will sting any other corals so placement must be planned carefully.
Diet
Will accept filter-feeding invert food, as well as shrimp, mysis shrimp and silversides. Symbiotic algae zooxanthellae is also hosted within this organism.
Feeding regime
Feed once every few days.
Environment Specifics
Unknown
Behaviour
Unknown
Identification
How to id the animal.
External links