Banded Darter (Etheostoma zonale)
From The Aquarium Wiki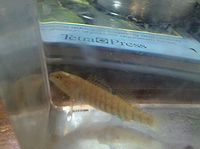 Additional names
Banded Darter
Additional scientific names
Poecilichthys zonalis
Origin
Found in riffles and runs of streams in North America.
Sexing
Males are much more colourful, and will have blue stripes instead of brown. Sexing is much easier when fish are in breeding form.
Tank compatibility
This section requires expansion with:
Other animals this species can be housed with, or animals they should not be housed with.
Diet
Since the majority of these specimens are wild caught is a good idea to feed them live food, as many will not learn to accept prepared food.
Feeding regime
Environment Specifics
Found in clear fast moving streams, so a tank should mimic this, they prefer others of their species as tank mates.
Behaviour
Often sits on the bottom of the tank when housed alone.
Identification
This section requires expansion with:
Methods for identifying and differentiating this species from similar species.
Pictures
External links