Regan's Pike Cichlid (Crenicichla regani)
From The Aquarium Wiki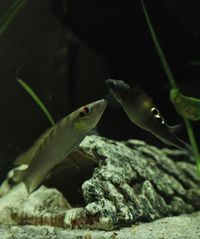 Origin
Found in the Amazon basin of South America. One of the most widely distributed of the Crenicichla sp..
Sexing
Females often have one or more ocelli on the dorsal fin and males are larger.
Diet
Feed on meaty foods, most should accept flake and pellet food. Shrimp, live food, prepared food etc.
Feeding regime
Feed fairly often when the fish is young, however when the reaches adult size, feed less often.
Pictures
External links