Vanderbilt's Chromis (Chromis vanderbilti)
From The Aquarium Wiki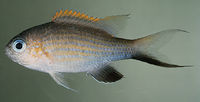 Additional names
Vanderbilt's Chromis, Black Chromis, Black Fin Damsel
Additional scientific names
Pycnochromis vanderbilti
Pacific Ocean: Taiwan to the Hawaiian and Pitcairn islands, north to the Izu Islands, south to Rowley Shoals (eastern Indian Ocean) and Lord Howe and Rapa islands
Planktonivorous, will eat a variety of foodstuffs.
Daily
Reef tank
Typical Chromis behavior
Colour is alternating blue and yellow stripes. The caudal fin has a broad yellow upper lobe margin and a broad black lower lobe margin. The margin of the spinous portion of the dorsal fin is also yellow; the anal fin is largely black.