58LK
From The Aquarium Wiki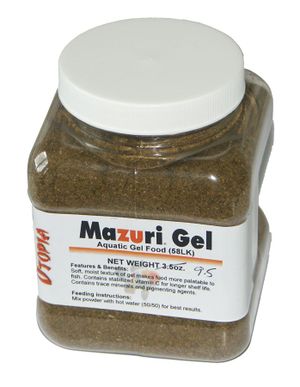 Product Description
Mazuri Aquatic Gel Diet - 58LK with Krill meat and Astaxanthin.
Manufacturer
Food Type
Sinking Gel food for omnivores fish, shrimps and frogs
Date Stamp
There was no date stamp on the tubs provided so it is recommended to write the purchased date on the label when you get it.
Quality
This food is a high quality processed fish food which the manufacturers claim will last for 6 months in the powder form or if made into a gel and stored in a air tight container in a freezer it will last 3 months. If stored in a refrigerator it will keep for 3 days.
Ingredients
Fish Meal, fish oil, gelatin, krill meal, spirulina, betain, L-ascorbyl-2 polyphosphate (source of vitamin C), xanthan gum, choline bitartrate, pyridoxine hydrochloride, menadione dimethylpyprimidinol bisulfite (source of vitamin K). astaxanthin, biotin, calcium pantothenate, canthazanthin, inositol, cholecalciferol (vitamin D3, d-alpha tocopheryl acetate (natural source vitamin E), thiamin mononitrate, nicotinic acid, folic acid, beta carotene, vitamin A acetate, riboflavin, ethoxyquin (preservative), zinc oxide, cyancobalamin (vitamin D12), manganous oxide, ferrous carbonate, copper sulfate, zinc sulfate, calcium iodate, calcium carbonate, cobalt carbonate.
The manufacturer claims that this food contains all vitamins and trace minerals known to be required by fish. Therefore vitamin supplements are not required.
Analysis
protein 55.0%, fat 15.5%, fibre 1.5%, Calcium 3.3-4.3%, Phosphorus 1.9%, Sodium 0.75%
Vitamins
vitamin C, vitamin K, vitamin D3, vitamin E, vitamin A, vitamin D12, riboflavin (B2), thiamin hydrochloride (B1), niacin (B3), pantothenic acid (B5), folic acid (B9), pyridoxine (B6), biotin, vitamin B12,
Pictures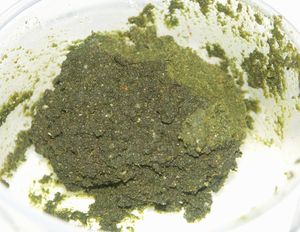 Notes
This food is produced by a USA company who supplies zoos and large animal organizations with high quality animal feed.
As this is a high protein sinking gel food, it is especially good for young fancy goldfish (< 18 months) or young balloon fish who may otherwise suffer from digestive problems. Try the 5ML6 version which has a lower protein level for older fish.
External links
Aquarists notes
This is an excellent food for constipated goldfish and my Mollys and Corys love it too. With a 50:50 mixture the food is a solid gel and is easily cut to size and sinks like a stone whilst remaining together for well over 10 minutes in the tank. On some forums I've heard it called the best man-made fish food on the planet. I can see why. As I live in the UK, it was expensive to buy it in from the USA. So I've taken a point off.
9/10 ---Quatermass 19:18, 26 July 2008 (UTC)