Chocolate Chip Starfish (Protoreaster nodosus)
From The Aquarium Wiki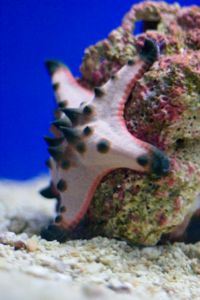 Chocolate Chip Starfish, Chocolate Chip Sea Star, Nodular Sea Star
Protoreastor nodosus
Unknown
It is not reef-safe, as it will eat corals, tubeworms, other starfish and sponges. It is otherwise peaceful towards tankmates. It should not be kept with fish that may nip it, such as Triggerfish.
penis
How often to feed, etc.
Unknown
A peaceful starfish as long as you're not a reef-dweller such as soft corals, clams, sponges, tubeworms or other starfish, which it will eat.
How to id the animal.