Lisbon Oceanarium
From The Aquarium Wiki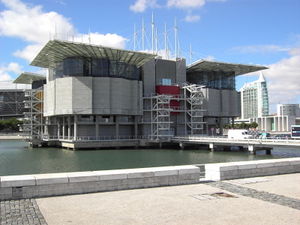 Visitors will never cease to be amazed as they journey through Europe's largest Oceanarium. Inhabited by 16.000 animals and plants representing over 450 different species, the Oceanarium offers visitors a unique and enchanting experience.
Four biotypes, each recreating one of the world's coastal habitats, are located in the four corner towers which encircle the central aquarium. Together, they constitute a representative set of ocean environments.
The Oceanarium is Europe's largest aquarium. In the world, just one aquarium has larger dimensions than our own - the Osaka Aquarium in Japan. It was built some 10 years ago by the same architect who designed the Lisbon Oceanarium – Peter Chermayeff.
The Global Ocean tank, one of the world's largest aquariums (4 million litres), is visible throughout a visit to the Oceanarium. The tank habitat is that of the high seas, and a good percentage of its inhabitants are large animals, known for being strong swimmers. Most are migratory species, and ranges can span several oceans. The best known are the sharks, rays and barracudas. Large shoals of fish can also be found on the high seas, although they are more common in coastal waters and on the continental shelf.
There is a huge array of animals to see at Lisbon Oceanarium, including enormous Manta Rays, Sharks, Groupers, Sea Otters, Penguins and Puffins, as well as smaller animals including Seahorses, Tangs, Jellyfish, Clownfish and other reef fish and invertebrates.
Esplanada D. Carlos I
Doca dos Olivais,
Lisbon 1990-005,
Portugal

The Oceanarium is located on the Expo'98 site, Parque das Nações, which also has many shops and places to eat. It is located a short taxi ride from Lisbon city centre, or simply take the metro to Oriente on the Red Line.
There are group discounts and family discounts. The standard ticket prices are: