Threeband Bannerfish (Heniochus chrysostomus)
From The Aquarium Wiki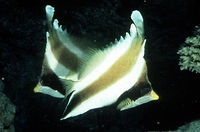 Additional names
Pennant Bannerfish, Threeband Bullfish, Pennant Bullfish, Pennant Butterflyfish, Threeband Butterflyfish
Additional scientific names
Heniochus permutatus, Heniochus melanistion, Heniochus drepanoides, Chaetodon teatae
Indo-pacific
Requires close examination
Peaceful, but not reef safe.
Eats Sponges and Soft Coral, but should accept most meaty foods in the aquarium.
Daily, ideally at least 3 times due to their activity level and high metabolism.
FOWLR tank with mature live rock on which it can graze.
Should only kept with peaceful tank mates.
The Pennant Bannerfish can be recognized by its colouration. It is white with a black band crossing the head and extending through the ventral fins. Two brown bands cross the body. The snout is yellow; the fourth dorsal fin spine supports an expanded pennant.