Royal Gramma (Gramma loreto)
From The Aquarium Wiki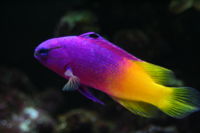 Additional names
Fairy Basslet
Origin
This section requires expansion with:
Location where this animal is found in the wild.
Sexing
Males are usually larger than females
Tank compatibility
A generally peaceful, even shy, fish if kept in a large enough tank, but can become aggressive towards tank mates if kept in a nano environment.
Diet
This section requires expansion with:
Details on what this species will eat..
Feeding regime
Middle to bottom feeder. Feed twice a day on frozen Brine shrimp and Mysis shrimp
Environment Specifics
Prefers a large and spacious tank with safe hiding places.
Behaviour
Peaceful and shy if kept in a spacious tank, but aggressive if kept in cramped conditions.
Identification
A very vividly coloured fish, the head to mid-section are purple, the rear yellow, the colours fade together. Not to be confused with the Pseudochromis paccagnella, where the two colours end abruptly before the second colour begins. This fish also looks very similar to it's relative the Gramma brasiliensis.
Pictures
[
edit
]
External links
[
edit
]