Marbled Hatchetfish (Carnegiella strigata strigata)
From The Aquarium Wiki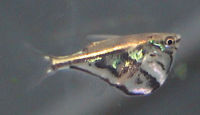 Carnegiella strigata strigata
Additional names
Marbled Hatchetfish
Additional scientific names
Carnegiella strigatus, Gasteropelecus strigata, Gasteropelecus fasciata, Gasteropelecus vesca, Carnegiella strigata
South America: Lower, middle and upper Amazon River basin; south of Amazon; and Caqueta River in Colombia.
Only identifiable during spawning when eggs can be seen in the females body.
A peaceful top-dwelling fish that should be in shoals of 6 or more. They should not be kept with boisterous fish and work well in a peaceful community where the other fish are mid-bottom dwelling.
Feed once or twice a day.
Needs to be kept in shoals of at least 6. Must have a tight fitting lid with no gaps whatsoever on their tank as they're excellent jumpers.
A peaceful entirely top-dwelling fish.
A very distinctive looking fish. A convex body with "wing" like pectoral fins. The body colour is iridescent silver with black stripes or blotches.