Australian Rainbowfish (Melanotaenia fluviatilis)
From The Aquarium Wiki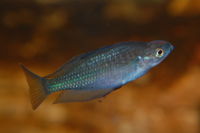 Additional names
Australian Rainbowfish, Crimson Spotted Rainbowfish, Western Rainbowfish, Murray River Rainbowfish
Additional scientific names
Aristeus fluviatilis, Melanotaenia splendida fluviatilis
Males tend to be more colourful than females. Mature males get black edging to most fins.
A generally peaceful fish that is happiest in shoals of around 6, more females than males. Do not keep with long-finned fish as they may be fin-nipped. Also, do not keep with smaller or delicate species of fish or invertebrates.
Will accept most foods including pellets and flake, vegetables and live/frozen food like brine shrimp and bloodworm.
Feed once or twice a day.
Needs a spacious and well filtered tank with plenty of lateral open swimming space. Keep in a mature tank with some dense vegetation.
A very active fish that can fin nip.
The body is grey with purple and orange horizontal stripe in females, males tend to be more colourful.