Pig-Face Pufferfish (Pao suvattii)
From The Aquarium Wiki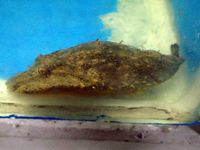 Additional names
Pig-Face Pufferfish, Pignose Puffer, Arrowhead Puffer, Mekong Puffer
Additional scientific names
Monotrete suvattii, Tetraodon suvatti
The Pignose Puffer is an inactive fish, a predator that waits for its dinner to swim by, and will spend most of his time in a cave on the bottom.
Feed this fish Mussel, earthworms, Shrimp, Snails, Bloodworm and Mysid Shrimp.
Depending on the size of the Pignose, when small feed daily, when bigger feed every other day or even every 2/3 days. The puffer should eat as much as he can than wait till his belly is flat again.
This fish appreciates a sandy substrate with lots of caves and hiding places.
An inactive puffer, which spends most of his time in a cave or dark spot in the tank. Most activity is during feeding time.