Zoanthids (Zoanthus sp.)
From The Aquarium Wiki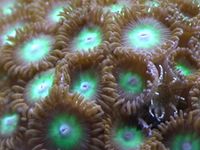 Alternative names
Zoanthids, Zoos, Zoanthid Polyps, Sea Mats, Button Polyps
Tank compatibility
Will sting neighbouring coral.
Diet
Zoanthids contain a symbiotic algae called zooxanthellae and are therefore photosynthetic. They will benefit, however, from occasional feedings of microplankton.
Feeding regime
Only occasional feedings are necessary as they are photosynthetic corals.
Environment Specifics
Is sold as a "frag" that is easily placed into the tank. Provide it with space to grow as it will sting neighbouring coral. Their placement should be planned carefully. Needs a moderate flow to move water with poisons away to be cleaned out of the water. Zoanthus or "Zoas" will live under a varity of lighting conditions, however, for their colors to remain bright and vivid they should be placed in a region of 200 to 400 PAR.
Behaviour
Poisonous, ALWAYS wear gloves when handling this coral.
Identification
An attractive and popular colourful colony coral. They are available in a variety of colours including green, tan, pink, brown and orange.
Pictures
External links