Fox Coral (Nemenzophyllia sp.)
From The Aquarium Wiki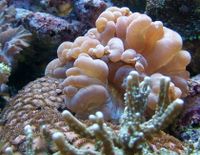 Pearly white, grey, purple, pink
Alternative names
Fox Coral, Jasmine Coral, Ridge Coral
Tank compatibility
Sandbed, Low, Middle of tank.
Diet
Photosynthetic and filter feeder.
Feeding regime
A weekly broadcast feeding of plankton, or reef food should suffice.
Environment Specifics
Thrives in higher nitrate conditions. Will also do well under many of the same conditions that a Bubble Coral will do well under.
Behaviour
Has toxic sting, keep other corals that you value away.
Identification
Calcified under skeleton, pillowy ruffly body with mouths in at the core.
External links