Mono (Monodactylus argenteus)
From The Aquarium Wiki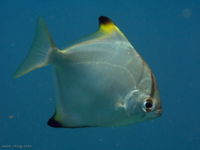 Additional names
Mono, Fingerfish, Silver Moony, Malayan Angel, Mono Angel, Silver Mooney
Sri Lanka
Impossible to tell the sexes apart.
Will prey on small fish, so tank mates should be no smaller than 3". Keep in shoals of at least 3-4 or more.
Omnivorous, will eat most things including krill, small pieces of fish and par-boiled vegetables.
Feed once or twice a day.
Juveniles sold as freshwater, but these are brackish fish, needing a gravity of 1.010 or so to thrive. Adults can live in marine water.
Mono's are active loosely-shoaling fish.
Very distinctive shaped fish, unmistakable. Similar in shape but more exaggerated to the freshwater Angelfish. It has a silver body with vertical black lines running down through the eye, behind the gills and has yellow tinged dorsal, tail and anal fins.